People go through streets, warehouses, industrial production lines, containers, ships, and boats every day. The materials of these walking surfaces in those areas may vary. Concrete, pavement, steel, aluminum, plastic, and other materials are noteworthy in this regard. However, Diamond plate sheets are one of the most often utilized materials in our everyday lives.
As a result, you should think about diamond plate sheets and learn more about them. To make it easy for you, this article will provide you with a general overview of diamond plate sheets, their varieties, and applications, as well as surface patterns. It will also provide you with helpful hints for cutting and polishing diamond plates.
Diamond plate sheets types by Materials
Aluminum, stainless steel, and carbon steel are the most popular metals used to make diamond plate. However, in most applications, you'll discover Aluminum diamond plate sheets and Diamond plate steel sheets.
Aluminum diamond plate sheets
Aluminum diamond plates are attractive, versatile, and inexpensive compared to other metals. They are helpful in a variety of applications due to their characteristics.
Corrosion resistance is a feature of the aluminum diamond plate. An aluminum deck plate is often applicable in outdoor situations such as parking lots, loading docks, and staircases due to its ability to endure the environment. You may also see the aluminum diamond plate sheets on boats, ports, and other marine applications.
On the other hand, the diamond aluminum plate sheets are simple to clean and wash. And so, Aluminum diamond plate sheets are perfect for application in kitchens, bathrooms, walk-in refrigerators, or freezers.
Diamond plates are typically formed from aluminum alloys. Because of its corrosion resistance and outstanding structural qualities, 6061-T6 aluminum is often prevalent in most of its uses. They do, however, employ 3003 aluminum, which is famous for its brilliance and aesthetic appeal.
Diamond plate steel sheets
There are various reasons behind manufacturing diamond plate sheets using stainless steel. Because of its strength, it may be suitable for multiple structural applications. Steel diamond plate sheets are often less costly than aluminum diamond plate sheets.
Diamond plate steel sheets are also long-lasting and simple to clean. Due to this feature, diamond plate steel sheets are widely popular in various commercial and industrial applications, including stairways, ramps, trailer floors, vehicle running boards, and truck beds.
Corrosion resistance is sometimes necessary for diamond plate steel sheets. As a result, diamond plate steel sheets are often the ideal option for food and beverage applications and other severe chemical applications.
Diamond plate steel sheets are trendy for their aesthetic value. Compared to aluminum diamond plates, it is one of the most costly varieties of diamond plate sheets. The standard is for austenitic stainless steels like 304 and 316 and martensitic grades like 440C and 17-4 PH.
Applications
From truck tool boxes to factory loading docks, diamond plates may be applicable in various commercial and construction applications.
You may be wondering about the necessity of different patterns on the diamond plate sheets. These diamond plate sheet designs make it less likely for you to slide. In the next section, we'll go through the most common uses for diamond plate sheets.
Diamond plate tool box
You've undoubtedly noticed that most flatbed truck toolboxes are diamond plated in some manner, shape, or form.
The diamond plate sheets are non-slippery and non-skiddy, which is one of the advantages of this use. Diamond plates also give more excellent traction in all conditions.
Diamond plate sheets are also commonplace on emergency vehicles. It is ideal for designing truck toolboxes because truck drivers often have to stand on their toolboxes while fastening goods, storing straps and tarps, and cleaning the cab. It's great to walk about on a non-slip, non-skid surface.
Diamond plate truck bed-cover
A truck bed cover made of diamond plates is a popular option. Manufacturers use diamond plate sheets for truck bed covers because these plates are strong, non-slippery, and attractive.
However, diamond plate sheets offer excellent protection for your bed rails and caps, tailgates, and bulkhead guards against dents, dings, and scratches when moving anything with your vehicle.
Diamond plate trailer fenders
The diamond plate sheets may also be suitable to accent bumpers or trucks to reduce the number of rollers when going into a vehicle and give stability while dragging or moving things on and off.
Like other kinds of fenders, you may install a diamond plate trailer fender over your trailer's tires. This sturdy sheet of metal may shield your trailer's wheels and axles from road debris such as pebbles, glass, and other debris.
The use of diamond plates fenders is necessary while trailering automobiles. Trailer fenders will keep your car safe from debris thrown up by the trailer tires. Legal considerations are also crucial since trailers should have fenders around the tires.
Diamond plate stair treads
Diamond plates sheets are often applicable in most sectors for stair construction. Both aluminum tread plate and diamond steel plate may improve stair tread traction, making the staircase safer to ascend. These plates are often used for exterior metal staircases in high-traffic commercial buildings.
Diamond plate stair treads offer a safe, non-slip surface for foot circulation on business staircases. They are often suitable to construct slip-resistant staircases that do not need a concrete fill.
Diamond plate pattern
Most of the time, you may find patterns such as five bar, three bar, orange peel, lentil, diamond, round bean, and more designs on the diamond plates. The five-bar tread plate is the most prevalent on the market. In most cases, a 5-bar big tread plate, a small checker plate, a large mirror tread plate, and a small mirror tread plate are also popular.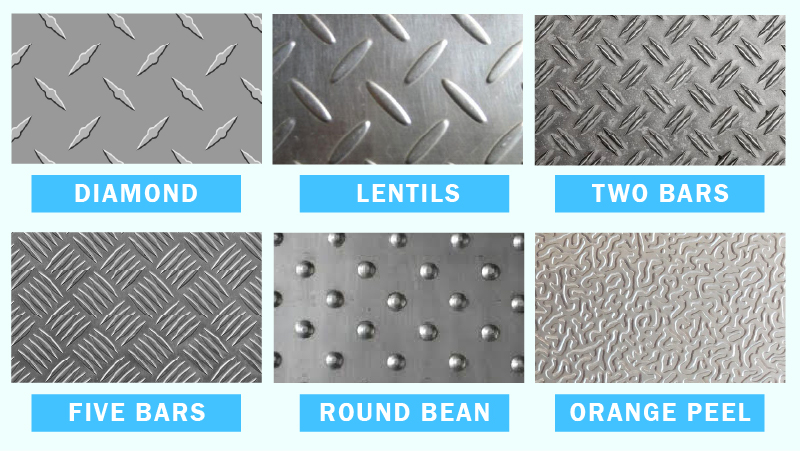 Cold storage projects, autos, buses, and motorbikes benefit from the 5 bar diamond plate. It has exceptional anti-skid properties. The design provides anti-slip capabilities because the patterns on the diamond plate's surface are placed parallel, and each pattern is at an angle of 60-80 degrees to the other patterns.
Lentil pattern diamond plate, on the other hand, is mainly utilized in carriages, platforms, cold storage floors, workshop floors, and elevators. Transportation, construction, decorating, manufacturing, shipbuilding, and other industries employ the small 5-bar aluminum tread sheet patterns.
However, different diamond plate sheets patterns might be suitable in comparable applications. Depending on the look and function of the installation, people pick various designs.
Diamond plate thickness chart
Diamond plate or chequer plate has different size and thickness properties. According to BS EN 10025 S275 JG (British Standard European Norm), JIS g 3101 – SS400 (Japanese Industrial Standard), and ASTM A 36 (American Society for testing and materials), we may get a similar diamond plate thickness chart as below.
BS EN 10025 S275 JR, JIS G 3101 – SS400, ASTM A 36 Diamond Plate/ Chequer plate thickness standard chart
Width x Length

1219 mm x 2438mm




4′ x 8′

1524 mm x 3048mm




5′ x 10′

1819 mm x 6096mm




6′ x 20′

Theoretical Weight

mm

kg/pc

lb/pc

pcs/mt

kg/pc

lb/pc

pcs/mt

kg/pc

lb/pc

pcs/mt

3

75.069

165.497

13.3

117.336

258.679

8.5

2.81.623

620.866

3.6

4.5

110.063

242.645

9.1

172.033

379.264

5.8

412.909

910.299

2.4

6

145.058

319.795

6.9

226.73

499.849

4.4

544.195

1199.732

1.8

7.5

180.052

396.943

5.6

281.426

620.432

3.6

675.482

1489.168

1.5

8

191.717

422.659

5.2

299.659

660.432

3.3

719.244

1585.646

1.4

9

215.046

474.09

4.7

336.123

741.017

3

806.768

1778.601

1.2

10

238.376

525.524

4.2

372.587

821.405

2.7

894.292

1971.556

1.1

11

261.705

576.955

3.8

409.052

901.796

2.4

981.817

2164.514

1

12

285.035

628.388

3.58

445.516

982.185

2.2

1069.341

2357.469

0.9

13

308.365

679.821

3.2

481.981

1062.575

2.1

1156.876

2550.45

0.9

14

331.694

731.253

3

518.445

1142.965

1.9

1244.401

2743.406

0.8

15

355.024

782.686

2.8

554.91

1223.354

1.8

1331.925

2936.362

0.8

16

378.353

834.118

2.6

591.374

1303.744

1.7

1419.449

3129.318

0.7
How to cut diamond plate
We already knew that diamond plate sheets come from a variety of materials. Aluminum sheet metal, on the other hand, is the most popular. An aluminum diamond plate is often famous in many DIY projects because it looks excellent in its gleaming form.
Aluminum sheets are particularly preferred in situations where metal wear and tear often occurs because of this aspect and their longevity. The metal may lose its luster as a result of this. For aluminum diamond plates, you'll need to take a few extra procedures to retain the shine.
Cleaning: Cleaning is the most crucial duty you should do before beginning the cutting process, especially for aluminum diamond plate sheets. You may test the detergent on a tiny section of metal before cleaning or washing it for the first time. It will guarantee that the cleaner is not damaging to the metal. When cleaning metals, never use strong chemicals or detergents. It may tarnish the metal even more.
Coating: After cleaning the metal sheet, you should coat it with a protective coating. In this case, waxing the sheet will assist in preserving the metal's luster.
You may apply for all types of diamond plate sheets from the following steps. We specified the above two methods to guarantee that our reader knows the value of aluminum diamond plates.
Draft the Pattern
With the help of a lead pencil, you may design the pattern of the cutting portions on a page. Use the ruler to confirm that all the lines are straight and the measurements are precise.
Prepare Diamond plate on the sawhorse
Once you have gathered all the supplies, the following step is to set the diamond plate on the sawhorse in such a position that one end of the plate hangs out.
Choose the smooth side for cutting
The two sides of the diamond plate are highly different; while on one side, there are bumps, the other side is smooth. It is considerably simpler to cut from the smooth side. Hence, when putting the plate on the sawhorse, ensure that the smooth side faces you.
Use the Jigsaw properly
You will be utilizing a solid metal cutting blade at this stage. In this case, you must put on your safety glasses. The fine-toothed blade will cut extremely slowly yet smoothly. Don't exert too much pressure; simply enough to assist the blade to go ahead. If the intended form has not come out, adjust the blade and start cutting again.
How to polish diamond plate
The aluminum diamond plate sheets give an eye-catchy dazzling, subtle sheen. Along with being gorgeous, it is one of the most durable materials of all metals. To preserve this fantastic brilliance, it becomes apparent to clean it periodically. Polishing your diamond plate will help you keep the luster of the aluminum diamond plate and maintain cleanliness.
Use your cleaners Properly
To retain aluminum diamond plates' luster and longevity, you may wash it in various ways, including using specialized cleaners or just cleaning it with a microfiber cloth and warm water. A patch test is strongly suggested before attempting a new approach. You'll guarantee that you don't destroy the whole surface this way.
Using strong detergents or chemical-based treatments, on the other hand, is likely to dull the brilliance of your aluminum diamond plate. As a result, it's best to stay away from it as much as possible to keep it in good shape.
Efficiently dry it
The material's surface might be damaged if water or cleaner is left on it for a prolonged length of time. It has to be dried as quickly as possible to keep it in good shape.
Finishing
After completing the previous two procedures, it's time to finish the cleaning process properly. For a final touch, polish the metal diamond plate. By putting wax on the cleansed region, you may polish the diamond plate at home.
A coat of wax would maintain the shine by providing a barrier against dust, filth, and grime.
However, you can ensure the quality of the aluminum diamond plate by following these methods for keeping cleanliness and retaining the shine. You'll be able to guarantee that the sheet metal fabrication you're purchasing has the correct shine this way.